Taurus weight bench B900 + barbell rack + 75 kg set
Item number
TF-B900-SET-2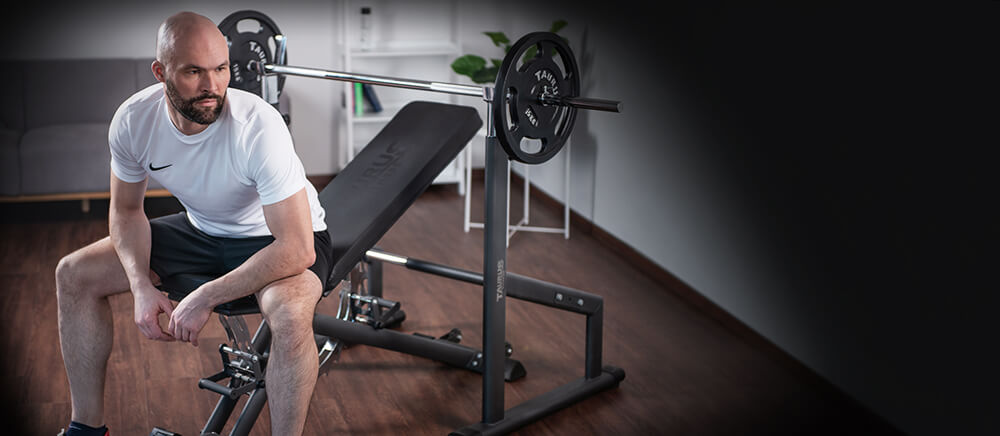 Taurus weight bench B900
incl. barbell rack
and 75 kg set
High-quality training station
at a reasonable price
Versatile strength training at home


Turn your living room into your private gym

Award-winning quality


For extra comfort and durability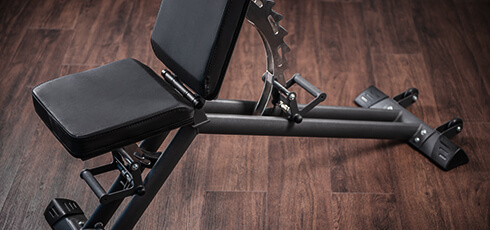 B900: Safe design, easy to use
The B900 weight bench provides you with excellent comfort and high durability thanks to the high-quality padding and double steel frame. The powder coating gives the B900 an elegant design and effectively protects it from scratches. The transport rollers and convenient handle system also make it easy to move and adjust according to your needs.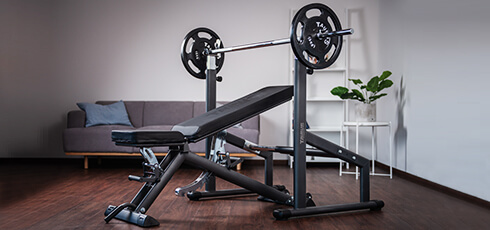 Barbell rack Deluxe: both stable and flexible
The Taurus barbell rack Deluxe, which can be loaded with up to 250 kg, also impresses with a high level of stability and flexibility, as well as a chic design. This allows you to adjust the rack 5 times in width and 9 times in height, thereby optimally adapting it to your body size and expanding your range of training.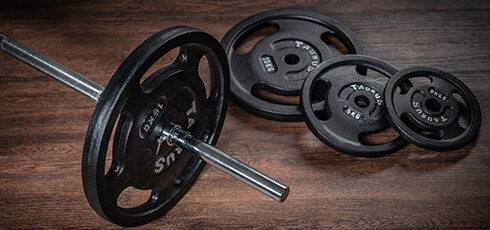 Sturdy barbell bar and plates
The Taurus weight plates 3G are made of sturdy cast iron. Thanks to the patented grip structure, they are easy to grip and can also be placed on a barbell quickly. The 165-cm-long and 9-kg Taurus barbell bar, made of break-resistant steel, perfectly rounds off this high-quality complete set at an affordable price.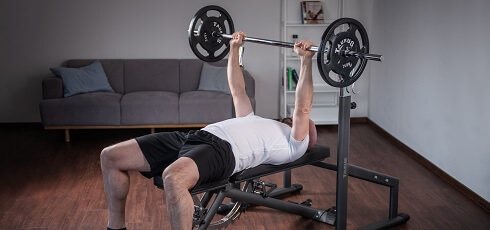 Universal strength training@home
Whether for a standard bench press, bent-over rows, bicep curls or squats, whether for arms, legs or back – the Taurus weight bench complete set opens up the whole range of versatile strength training for you to realise your individual fitness goals – in your own home, without having to worry about opening hours and whether equipment is free.
Taurus weight bench B900 incl. barbell rack and 75 kg set – affordable complete package for holistic strength training
Taurus B900 weight bench
The Taurus weight bench B900 offers you award-winning quality at a low price. In 2017, the renowned Institute for Biomechanics in Sports at the Technical University of Munich tested various weight benches, including in the areas of ergonomics, safety and workmanship. The results were published in the February 2017 issue of Fit for Fun magazine. Price-performance winner with the best score of 1.8: the Taurus weight bench B900. The compact B900 can support up to 300 kg and impresses with excellent padding and an extremely robust double steel frame. The extra-large feet also provide even more stability. Thanks to the powder coating of the frame, the B900 has an elegant look and is effectively protected against scratches. And the B900 is as safe as it is easy to use. The transport rollers make it easy to move the B900 from A to B. The convenient grip system also makes it easy to adjust the weight bench (backrest 10 times from decline to right angle, seat can be adjusted 3 times).
---
Product details: Taurus weight bench B900 + barbell rack + 75 kg set
Powerrack offer set, including:
- Taurus weight bench B900
- Taurus barbell rack RK2459
- barbell bar star collar 165 cm
- 75kg T-Fitness weight plates 3G with grip holes, of it
2 x 15kg, 2 x 10kg, 4 x 5kg, and 2 x 2.25kg weight plates
Taurus weight bench B900:
Rest is 10 times, seat is 3 times adjustable
Double frame and extra-big feet offer highest stability!
Quick-lock system for comfortable adjusting of the desired training position:
Transport wheels and lever handle
Scratch- and shockproof powder varnish
Maximum load capacity: 300 kg
Set-up dimensions (weight bench): (L) 140cm x (W) 47 cm x (H) 51 to 135cm
Barbell training station:
14 times height adjustable from 100 cm to 156 cm
Adjustable in width from 76 cm to 108 cm
Maximum load capacity: 200 kg
Set-up dimensions (barbell rack): (L) 80 cm x (W) 76-108 cm x (H) 100 to 156 cm
Incl. 165cm barbell bar (approximately 10kg)
With thread and safety star collars
165cm long, 30mm in diameter
Inside dimensions: approximately 106-112 cm
Incl. 75kg T-Fitness iron cast weight plates 3G with grip holes, of it
2 x 15kg, 2 x 10kg, 4 x 5kg, 2 x 2.5kg weight plates
30.5 mm holes
Very easy to use - with patented grip structure
High-quality workmanship
---
Description: Taurus weight bench B900 + barbell rack + 75 kg set
Taurus barbell rack Deluxe
The
Taurus barbell rack Deluxe
can be used particularly variably due to its multiple options for adjustment. You can therefore adjust the rack 5 times in width (internal dimension between 75 and 108 cm) and 9 times in height (height dimension 100–156 cm). This allows it to be optimally adjusted to the user's body size and also enables an even wider range of training. Here, too, the tried-and-tested powder coating ensures an elegant design and high durability. Like the B900, the barbell rack Deluxe is quick and easy to set up thanks to its well thought-out design, meaning you can start your strength training right away.
Taurus barbell bar and Taurus weight plates 3G
The Taurus power rack action set is rounded off by the
Taurus barbell bar
with safety star collar and the
Taurus weight plates 3G
with handy grip holes and a total weight of 75 kg (2 x 15 kg, 2 x 10 kg, 4 x 5 kg, 2 x 2.5 kg). Both the barbell bar made of high-quality steel and the weight plates made of cast iron are particularly robust thanks to their high-quality workmanship and they retain their quality even when used frequently, meaning you will enjoy them for a long time.
Save

20 %

now with the affordable Taurus complete weight bench set compared to purchasing all four components individually and start your varied and effective strength training at home!
---
Warranty conditions: Taurus weight bench B900 + barbell rack + 75 kg set
For further information on the warranty, please refer to the manufacturer's terms of warranty. The manufacturer's warranty is an extra service and does not affect your statutory rights.
| Manufacturer's warranty | Full warranty |
| --- | --- |
| Home use | 2 years |
---
Taurus weight bench B900 + barbell rack + 75 kg set Test & Evaluations
---
---
Taurus weight bench B900 + barbell rack + 75 kg set Accessories
---
T-Fitness puts each fitness equipment through its paces. Then our team of sports scientists, serious athletes, and service technicians of many years of experience evaluate the products of different categories. Compare easily the products using the T-Fitness expert review and find your appropriate equipment.