cardiostrong TX70 treadmill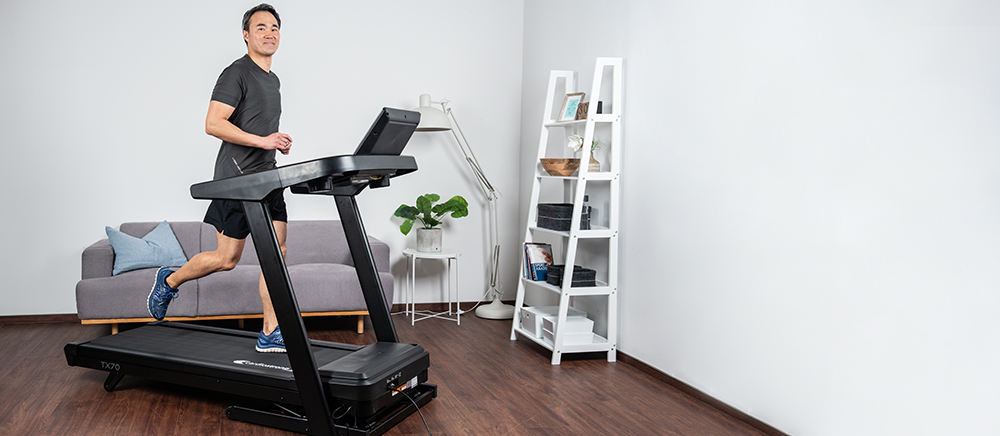 Cardiostrong TX70 treadmill
Looks good and does a lot!


The TX70 comes up trumps with a powerful 3.5 HP motor

Practical mirroring function


Mirror the display of your smartphone to that of the treadmill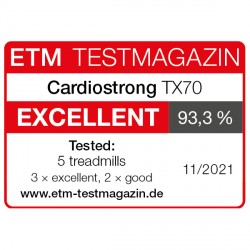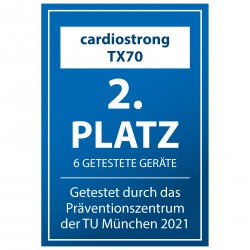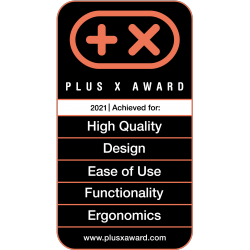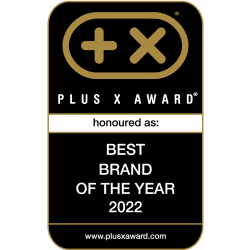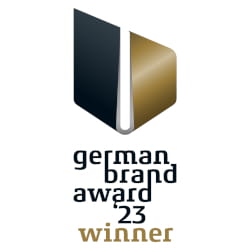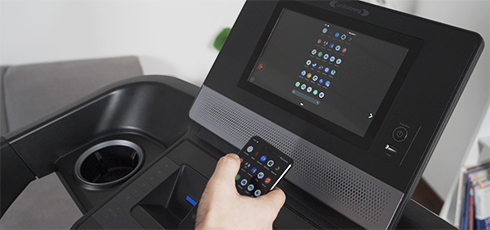 Mirror, mirror on the console
With the mirroring function, you can mirror the display of your smartphone onto the 10.1-inch touchscreen of the treadmill. You can therefore watch your favourite movie or browse social media during your workout session. The effort becomes a minor matter.
1 device, 3 display modes
With the treadmill you have all the prerequisites for a successful workout at home. Choose one of three different display modes to add variety to your workout. Among the display options is a classic overview with incline, calories, etc., a cockpit display in a tachometer style, and a running track with 400 metres per lap.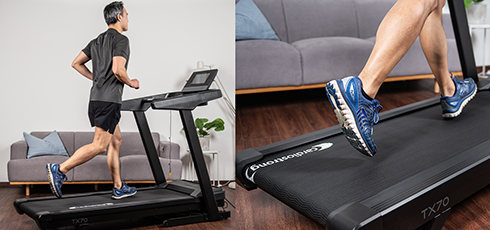 Everything a runner's heart desires
The TX70 treadmill provides many reasons for an exuberant running workout. The powerful motor with 3.5 HP continuous power can accelerate up to 20 km/h and always runs constantly. For an extra boost, the incline can be added to the workout, which reaches a full 15 levels to simulate mountain runs. Thanks to the pleasant damping, training is easy on the joints and as comfortable as a run on solid forest ground.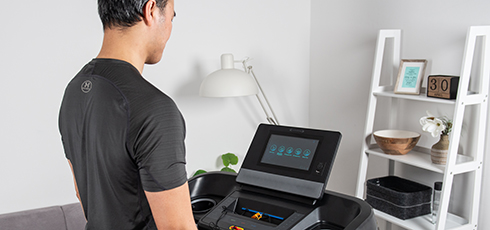 Burn calories and still save energy
The energy-saving mode is a smart way to save. After your workout, simply press the energy-saving button to save money and do something good for the environment. Isn't that cool?
---
Product details: cardiostrong TX70 treadmill
The cardiostrong TX70 was voted the second best device in the Treadmill Test (2021) of the Prevention Center of the Technical University of Munich. The entire ranking list and the results of the other tested categories can be found here.
Mirror function: You can also display the screen content of your smartphone on the large display of the treadmill via WiFi!
Touchscreen display: fast, easy control
3 display modes during training: realistic with lap/track | classic with bar chart | motivational with speedometer
Displays a wide range of training data: including incline covered in altitude, pace (min/km), lap time/400 m
17 pre-programmed workouts in three categories: Weight Loss, Sports Training, Healthy Living
Energy saving mode: put the console into sleep mode or wake it up again with a quick push of a button
Motor with a continuous output of 3.5 HP | Max. output of 5.5 HP
Max. user weight: 150 kg
Dimensions set-up - cardiostrong TX70 treadmill: (L) 186 cm x (W) 89 cm x (H) 143 cm
Folded - cardiostrong TX70 treadmill: (L) 118 cm x (W) 89 cm x (H) 160 cm
Technical information:

DC-Motor: HP - continuous duty 3.5 HP
Running surface: 152 x 50 cm

Belt

: 3 mm
speed: 0.8 - 20 km/h (

adjustable in increments starting from

0.1 km/h)
incline: 0 - 15 % (

adjustable in increments starting from

1 %)

Computer:

Display:

duration,

distance,

speed

,

incline

,

pace,

calories,

heart rate

Display of exercise profiles via TFT
Exercise programs in total: 23, of which custom: 2, heart rate controlled: 2
6

speed hot keys

6

incline hot keys

Features:

Heart rate measurement:

hand pulse sensors

, chest strap (sold separately)
Chest strap for telemetric heart rate measurement sold separately
Extras: transport wheels, foldable
---
Description: cardiostrong TX70 treadmill
The cardiostrong TX70 treadmill is a stylish treadmill with great running characteristics and an excellent console. This provides an excellent overview and, thanks to the mirroring function, allows you to view the contents of your mobile phone on the large display of the treadmill.
Training overview
It is easy to just start running on the TX70. Select quick-start and train as you like. Other training individuals always need the maximum overview of training. According to the motto: If I don't see a number, I haven't trained – one of these people is writing these words right now. The TX70 offers both. For example, it offers 3 display modes: a classic overview with incline, speed, calories, etc... There is also a cool tachometer-style cockpit display and, last but not least, there is the stadium or lap view. Here you will see the lap time for 400m or your pace. All in all, the TX70 displays training values that few other treadmills show, such as calories burned per hour or metres of altitude covered.
To make the time fly by...
..., the TX70 has a very special feature: the ability to transfer the content of your smartphone to the larger monitor of the treadmill. This allows you to display the entertainment apps from your smartphone on the treadmill. Not bad at all if you ever want to go for a longer run and watch your favourite movie.
It's the basics that matter!
The TX70's console is a really nice bonus, but this treadmill also runs smoothly on the basics! The treadmill is powered by a motor with 3.5 HP continuous power and can accelerate up to 20 km/h. You can also set an incline of up to 15%. Even if you live in the flattest part of Germany, you can do a hill run.
The treadmill is well cushioned, similar to a dry, firm forest path. This is much more pleasant than running on asphalt or concrete! Two factors ensure the good damping of the treadmill. Firstly, there are the cushioning elements that support the running deck, which are mounted at four points on each side. Then there is the running deck itself. This so-called Orthobelt mat is particularly thick to provide extra damping!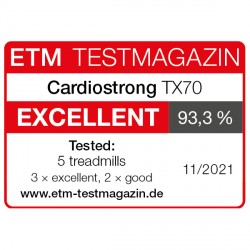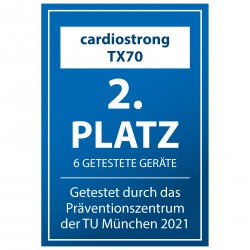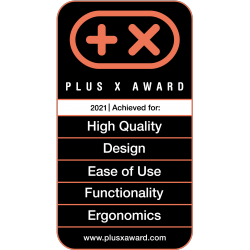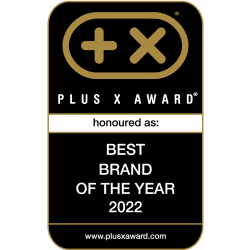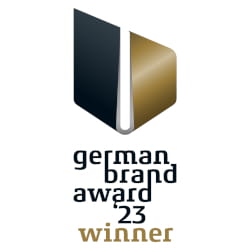 ---
Warranty conditions: cardiostrong TX70 treadmill
For further information on the warranty, please refer to the manufacturer's terms of warranty. The manufacturer's warranty is an extra service and does not affect your statutory rights.
| Manufacturer's warranty | Full warranty |
| --- | --- |
| Home use | 24 months |
---
cardiostrong TX70 treadmill Test & Evaluations
4.42 of 5 Stars
(12 Customer ratings)
---
---
---
cardiostrong TX70 treadmill Accessories
Out of stock
Back in stock approximately CW 09
(26.02.2024 - 01.03.2024)
---
T-Fitness puts each fitness equipment through its paces. Then our team of sports scientists, serious athletes, and service technicians of many years of experience evaluate the products of different categories. Compare easily the products using the T-Fitness expert review and find your appropriate equipment.