Product details: Thera-Band 5.5m
Joint-gentle, effective training with elastic and progressive resistances
Eight strengths, recognisable by their colour: beige (extra thin), yellow (thin), red (medium), green (strong), blue (extra strong), black (specially strong), silver (super strong), gold (max. strong)
The right Thera-Band for you:

beige and yellow exercise bands are ideal for rehab and after injuries as well as for elderly persons
red and green exercise bands are perfect for women
green and blue Thera-Bands are suitable for men
the black exercise band is recommendable for persons with a very well trained fitness
silver and gold are best for competitive athletes

The resistance (kg) of the band depends upon its percentual stretching. The chart (see below) shows, how much strength you need for the stretching.
Different resistance levels ensure an optimal, individual training adapted to your training progress
The personal gym in mini format, at any place at any time
Ideal for increase in strength and coordination
Material: natural latex
Length: 5.5 m; width: 13.8 cm/15 cm
Exercising possibilities:

Arm bend
Over-head pulling
Butterfly
Rowing
Straight/oblique crunch
Adduction
Leg curl

Note: it might be delivered in parts (production-related)
---
Description: Thera-Band 5.5m
Thera-Band
is the worldwide leading brand for training products with progressive resistance for the use in therapy, sports, and fitness training.
The
Thera-Band 5.5m
offers almost unlimited application possibilities for increasing strength, mobility, and flexibility. Using the Thera-Band, you improve your strength-cardio and build muscles.
The affordable and easy to transport
exercise band made of natural latex
is available in eight different strengthes.
Thera-Band 5.5m - the right Thera-Band for your performance level
The resistance of the band depends upon its percentual stretching. If you stretch, i. e., a green band with a starting length of 50 cm to 100 cm, the percentual stretchung respectively extension corresponds to 100 %. The chart shows how much strength is required for this stretching: 2.3 kg.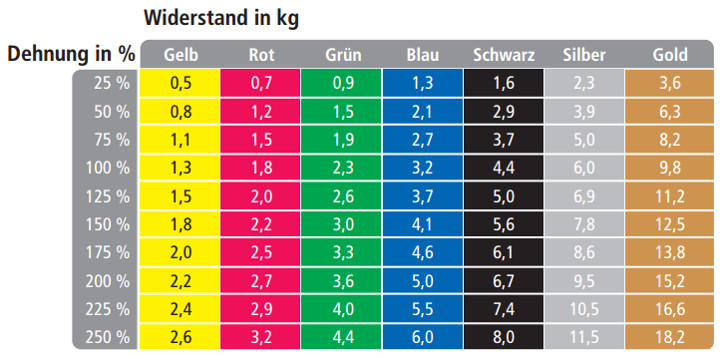 The light resistance levels are perfect for physiotherapy and rehab. The middle strengthes are optimal for fitness, the strongest levels support the muscle building training. The bands with a strength of extra thin have a width of 13.8 cm, the strengthes of extra strong to maximum strong are 15 cm wide.
---
Warranty conditions: Thera-Band 5.5m
The guarantee is valid in terms of the general statutory provisions for the end user.
---
Thera-Band 5.5m Test & Evaluations
0 of 5 Stars
(0 Customer ratings)
---
---
Write the first rating!
---
T-Fitness puts each fitness equipment through its paces. Then our team of sports scientists, serious athletes, and service technicians of many years of experience evaluate the products of different categories. Compare easily the products using the T-Fitness expert review and find your appropriate equipment.