Taurus Incline Trainer IT10.5 Pro treadmill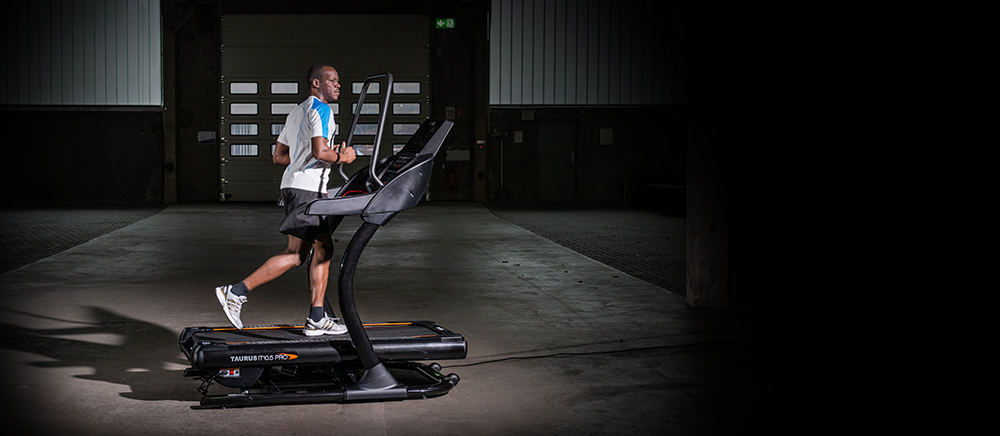 Taurus Incline Trainer IT10.5 Pro treadmill
Uphill and downhill

Up to 40 % incline and -5% decline

Professional treadmill

Large running surface, durable and powerful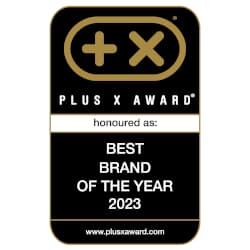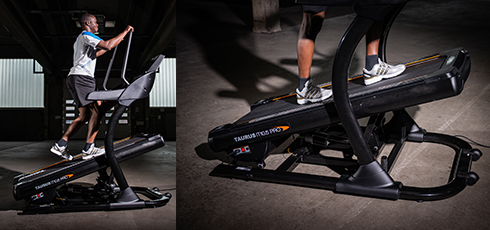 Up to 40 % incline
With the IT10.5 Pro, you can climb extreme inclines and target far more muscle areas than would be possible with normal running. In addition, running uphill increases calorie consumption many times over! In addition to a 40 % incline, the running deck can also be tilted to -5%, meaning you can also run on declines.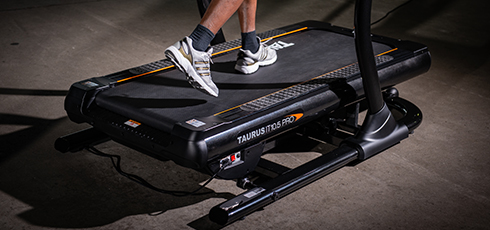 Gym quality
Work out at home – just like you would in a professional gym. The powerful treadmill combines maximum stability with power and speed. The low-maintenance motor provides the IT10.5 Pro with a continuous output of 3 hp. With a speed of up to 20 km/h, the treadmill can also be used for sprints.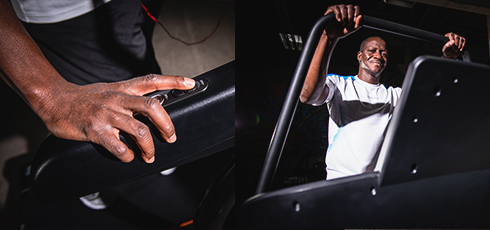 Peace of mind when running
You need to feel safe on your training equipment, especially when training on steep inclines and at high speed. That's why the IT10.5 Pro not only has two sturdy handrails but also an extra-large safety bar. In addition, the two-layer running deck with a width of 55 cm and a length of 150 cm ensures pleasant and safe running.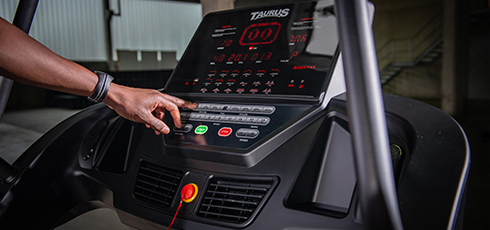 Effective training programs
You have all the important training data at a glance on the large console: time, distance, speed, incline, pulse and calories. Choose from 18 predefined training programs that simulate running scenarios with varying inclines and speeds. 11 direct selection buttons are available to enable the desired incline and speed to be adjusted quickly.
---
Product details: Taurus Incline Trainer IT10.5 Pro treadmill
Professional treadmill that can also simulate downhill motion and extreme inclines
Extreme incline for an even higher calorie consumption and an even more intensive workout of the buttocks and thighs
Incline range from -5% to 40% for the perfect running workout
40% incline - more than the steepest street of the world
Thanks to the slope of up to -5%, a workout can be extremely realistically designed. What running track always goes uphill?
With built-in ventilator for a cooling effect
With 55 cm an extra wide and thus much more comfortable running surface
Large safety bracket that provides absolute safety during large inclines
MP3 connection, listen to your own playlist during the workout
Guarantees: Extreme stability and durability - the IT10.5 Pro is also approved for use at fitness studios
Run away from the pounds - the incline trainer for extremely high calorie consumption
Max. user-weight: 170 kg
Dimensions set-up - Taurus Incline Trainer IT10.5 Pro treadmill: (L) 179 cm x (W) 112 cm x (H) 202 cm

Technical information:

AC-Motor: HP - continuous duty 3 HP
Advantages of an AC motor: long durability, low maintenance, continuous power, smooth and pleasant running
Running surface: 150 x 55 cm

Belt

:

two-ply

, 2.5 mm
speed: 1 - 20 km/h (

Adjustable in increments starting from

0.1 km/h)
incline: -5 - 40 % (

Adjustable in increments starting from

1 %)

Computer:

Display:

duration,

distance,

speed

,

incline

,

calories,

heart rate

Display of exercise profiles via LCD
Exercise programmes in total: 25, of which custom: 3,
5

speed hot keys

6

incline hot keys

Features:

heart rate measurement:

hand pulse sensors

, chest strap (sold separately)
Chest strap for telemetric heart rate measurement sold separately
Extras: transport wheels, fan
---
Description: Taurus Incline Trainer IT10.5 Pro treadmill
Aiming high with the Taurus Incline Trainer
The Taurus Incline Trainer IT10.5 Pro is a highly-efficient item of training equipment that will take your running training to the next level. This is mainly due to the joint-friendly cushioning, the huge running surface (150 x 55 cm) and, last but not least, an enormous incline range.

Baldwin Street in Dunedin (NZ) is considered the steepest street in the world with an incline of about 35 %. With a maximum incline of 40 %, the Incline Trainer IT10.5 Pro even eclipses the record street in New Zealand. What are the benefits of running on such steep inclines? Hill running is an effective way to improve your speed. Muscles are trained that are used much less during normal running. Incline running strengthens the gluteal and thigh muscles and the back extensors.
Realistic hill running
Due to the fact that running uphill is much more energy consuming than normal running, many more calories are consumed. As a result, the IT10.5 Pro not only helps you strengthen your muscles, but also allows you to train efficiently for weight loss at the same time.
Why hill running? Isolated downhill sections make the hill running experience more realistic. With the IT10.5 Pro you can optimally prepare for real running routes during your training. By running downhill regularly, you prepare your muscles for challenging downhill runs.
Practical functions
In addition to the 18 profile programs, the training computer offers you the option of starting right away with a quick-start program, creating three of your own profile programs or training according to a set target value. For example, you can base your training session on a specific training time, a specific distance or a desired calorie consumption. If you are focused on your body fat percentage when it comes to training, you can directly measure the success of your training with the body fat test function.
Top performance and many extras
Of course, this kind of treadmill would be nothing without a strong and durable motor. The benefits of the powerful AC motor have a direct impact on training comfort: steady start-up and consistent performance during long and intense training sessions. The treadmill is designed for a maximum user weight of 170 kg.
In addition to the high-quality components and the strong performance, the Taurus Incline Trainer IT10.5 Pro offers a lot of extras. You can cool down by simply pressing a button on the console: the built-in fan is located directly below the console. To the left and right of the console there are two compartments for water bottles, mobile phones and other items. Line-in access allows you to connect your MP3 player to the treadmill and control what music is played using the console. Connect your headphones or simply use the integrated speakers.
The support frame of the IT10.5 Pro has transport rollers, meaning you can flexibly move the robust treadmill. You can also use a chest strap that can be connected to the console of the IT10.5 for a constant heart rate measurement.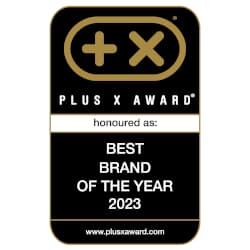 ---
Warranty conditions: Taurus Incline Trainer IT10.5 Pro treadmill
For further information on the warranty, please refer to the manufacturer's terms of warranty. The manufacturer's warranty is an extra service and does not affect your statutory rights.
| Manufacturer's warranty | Full warranty |
| --- | --- |
| Home use | 24 months |
| Semiprofessional use | 12 months |
| Professional use | 6 months |
---
Taurus Incline Trainer IT10.5 Pro treadmill Test & Evaluations
5 of 5 Stars
(1 Customer rating)
---
---
---
Taurus Incline Trainer IT10.5 Pro treadmill Accessories
---
Bestsellers of the last 30 days from the category Treadmill
---
T-Fitness puts each fitness equipment through its paces. Then our team of sports scientists, serious athletes, and service technicians of many years of experience evaluate the products of different categories. Compare easily the products using the T-Fitness expert review and find your appropriate equipment.