cardiostrong Laufband TX50
Delivery by freight carrier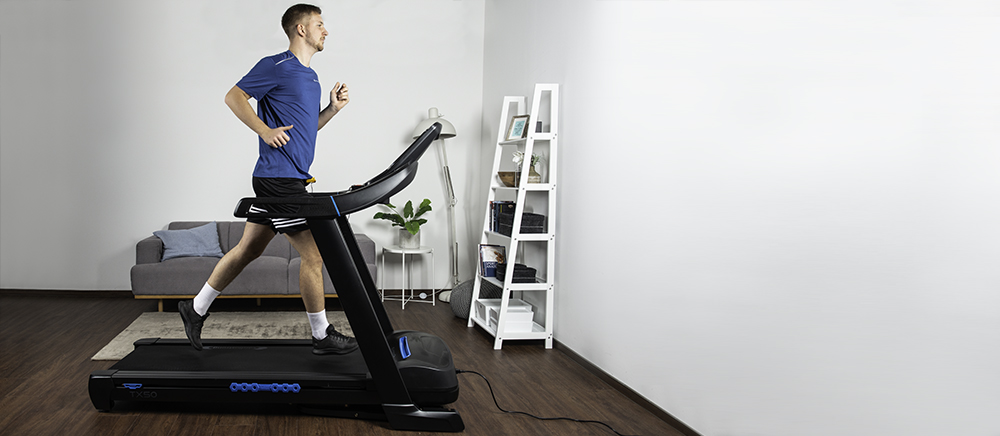 cardiostrong TX50 Laufband
So wird das Training zum Erfolg
Starker 3PS-Motor, Hexagon-Dämpfungssystem
und herzfrequenzgesteuerte Trainingsprogramme
für maximalen Laufgenuss
Vollgepackt für gute Unterhaltung
Touchscreen Konsole, Smartphone Mirror-Funktion,
Bluetooth-Lautsprecher und
USB-Ladeport sorgen für bestes Entertainment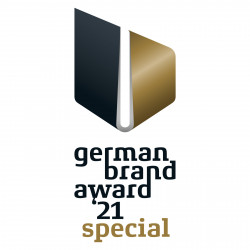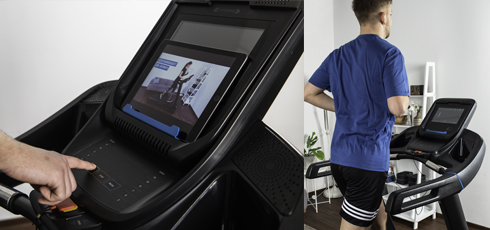 So geht Spaß beim Sport
Mit dem TX50 haben Sie beim Laufen immer Spaß. Koppeln Sie Ihr Smartphone oder Tablet mit dem Laufband und hören über die eingebauten Boxen Ihre Lieblingsmusik. Das motiviert zusätzlich und macht das Training zu einem Kinderspiel. An der Konsole des Laufbands befindet sich außerdem ein USB Anschluss und eine Tablethalterung. So können Sie Ihr Smartphone oder Tablet auf die Halterung legen und es nebenbei laden.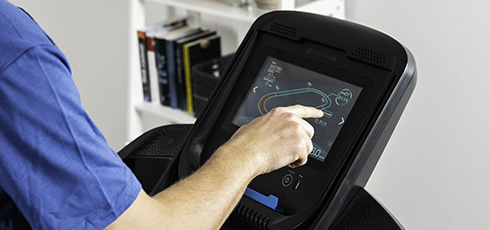 Große 10,1 Zoll Touchscreen Konsole
Das Laufband trumpft mit einer großen 10,1-Zoll-Touchscreen Konsole auf. Dank der Mirror- Funktion können Sie den Bildschirm Ihres Smartphones ganz einfach und schnell auf die Konsole übertragen. Daraufhin haben Sie die Möglichkeit, Filme, Videos und soziale Netzwerke auf dem großen Display zu genießen.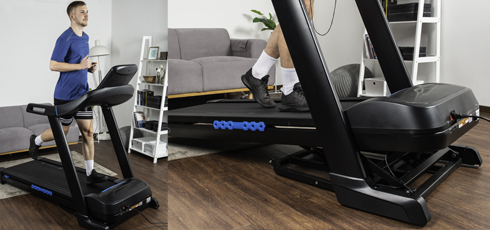 Starker Motor für intensives Training
Der 3 PS starke Motor sorgt jederzeit für ein optimales Lauferlebnis. Erreichen Sie eine Geschwindigkeit von bis zu 18 km/h und eine Steigung von bis zu 15 %. Für eine einfache und schnelle Kontrolle des Trainings verfügt das TX5 0über 6 Schnellwahltasten für Steigung und Geschwindigkeit.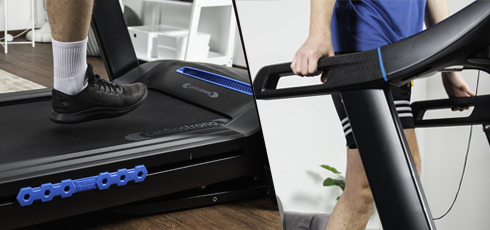 Bis ins letzte Detail durchdacht
Bei den Seitenelementen des TX50 handelt es sich um schwarz eloxierte Aluminiumschienen. Die Schienen sehen nicht nur gut aus, sondern sind dank der besonderen Beschichtung auch sehr widerstandsfähig. Das Laufband hat besonders ergonomisch geformte Handläufe, die für einen festen Halt während des Trainings sorgen, wenn es darauf ankommt. Die blauen Hexagon- Dämpfungselemente unter der Lauffläche garantieren ein gelenkschonendes Laufen.
---
Product details: cardiostrong Laufband TX50
Schickes Laufband mit Touchconsole und Mirror-Funktion zur Wiedergabe Ihrer Smartphone-Inhalte auf der großen Konsole des Laufbands
Innovativ dank 10,1-Zoll-Touchscreen Konsole, die Übersicht bietet und eine einfache Bedienung garantiert
Unterhaltsam dank der Mirror-Funktion: Zeigen Sie die Apps von Ihrem Smartphone auf dem großen Display des Laufbands
Stark dank eines Motors mit 3 PS Dauerleistung (Spitzenleistung sogar noch höher)
Sparsam und schnell: Konsole mit Energysaver-Funktion und schnellem Neustart
Schnellwahltasten für einfache Tempowechsel
Es geht aufwärts: Das Laufband bietet bis zu 15 % Steigung.
Soft und gelenkschonend dank der innovativen Hexagon-Dämpfungsstruktur
Effizientes Training dank der Pulsmessung, insgesamt 4 Pulsprogramme:

Konstante Herzfrequenz mit Steuerung über Steigungsfunktion
Konstante Herzfrequenz mit Steuerung über Geschwindigkeit
Intervall Herzfrequenz mit Steuerung über Steigung
Intervall Herzfrequenz mit Steuerung über Geschwindigkeit

Einfache schnelle Kontrolle des Trainings dank je 6 Schnellwahltasten für Steigung und Geschwindigkeit
Schickes Design
Platzsparende Lagerungs-Option dank Klappmodus und Transportrollen
Großartige Übersicht: Das Display bietet 3 Anzeigemodi, u.a. mit Rundenzeiten, vertikalem Anstieg und sogar Pace
Zubehör: USB-Aufladeport, großzügige Ablagefläche für Handy, Handtuch oder Trinkflasche, Lautsprecher, Handpulsmesser
Max. user-weight: 130 kg
Dimensions set-up - cardiostrong Laufband TX50: (L) 187 cm x (W) 84.5 cm x (H) 146 cm
Folded - cardiostrong Laufband TX50: (L) 132 cm x (W) 84 cm x (H) 152 cm
Technical information:

DC-Motor: HP - continuous duty 3 HP
Running surface: 148 x 50 cm

Belt

:

two-ply

, 1.8 mm

Running deck

: 18 mm

,

guide rollers

: 50 mm
speed: 0.8 - 18 km/h (

Adjustable in increments starting from

0.1 km/h)
incline: 0 - 15 % (

Adjustable in increments starting from

1 %)

Computer:

Display:

duration,

distance,

speed

,

incline

,

pace,

calories,

heart rate

Display of exercise profiles via TFT
Exercise programmes in total: 23, of which custom: 2, heart rate controlled: 2
6

speed hot keys

6

incline hot keys

Features:

heart rate measurement:

hand pulse sensors

,

chest strap (sold separately)

Chest strap for telemetric heart rate measurement sold separately
Extras:

transport wheels,

foldable,
---
Description: cardiostrong Laufband TX50
Programmvielfalt mit dem TX50 erleben
Mit dem TX50 ist Ihr Ausdauertraining besonders abwechslungsreich. Stellen Sie sich dazu auf der Touchscreen Konsole eins der insgesamt 23 Trainingsprogramme ein. Dazu zählt ein manuelles Programm, mit dem Sie direkt und ohne Umwege ins Training starten können. Außerdem gibt es drei Zielprogramme. Hier können Sie zwischen Zeit, Strecke und Kalorien wählen. Das Laufband hat 12 voreingestellte Programme für verschiedene Trainingsziele. Besonders effektiv sind die 4 Pulsprogramme, mit denen das Training nach Herzfrequenz gesteuert wird. Um das Training noch individueller zu gestalten, stehen Ihnen 2 benutzerdefinierte Programme zur Verfügung.
Praktisch in vielerlei Hinsicht
Das Laufband kann nach dem Training platzsparend zusammengeklappt werden und nimmt somit nur noch wenig Stellfläche ein. Um das Laufband zu verschieben, verfügt es über eingebaute Transportrollen, mit denen es bei Bedarf an einen anderen Ort gerollt werden kann. Eine weitere praktische Funktion des TX50 ist die Energysaver-Taste. Sobald Sie diesen Knopf an der Konsole des Laufbands drücken, fährt das Laufband in einen Energiesparmodus. Mit dieser Taste tun Sie Ihrem Geldbeutel und der Umwelt also ganz nebenbei noch etwas Gutes.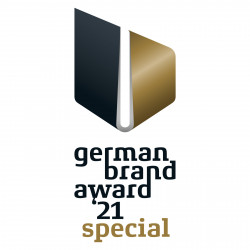 ---
Warranty conditions: cardiostrong Laufband TX50
For further information on the warranty, please refer to the manufacturer's terms of warranty. The manufacturer's warranty is an extra service and does not affect your statutory rights.
| Manufacturer's warranty | Full warranty |
| --- | --- |
| Home use | 2 years |
---
cardiostrong Laufband TX50 Test & Evaluations
Write a product rating now and win a gift coupon of 500 € or the refund of the paid purchase price. The choice is yours!
---
cardiostrong Laufband TX50 Accessories
---
Bestsellers of the last 30 days from the category Treadmill
---
T-Fitness puts each fitness equipment through its paces. Then our team of sports scientists, serious athletes, and service technicians of many years of experience evaluate the products of different categories. Compare easily the products using the T-Fitness expert review and find your appropriate equipment.